By now I think everyone has heard about the
demand
for the immediate withdrawal of American troops from Iraq made by Rep. John Murtha, Dem., Pennsylvania. Probably heard the AWOL weasel's response, too.
Here's a little something from
Shakespear's Sister
that I just love.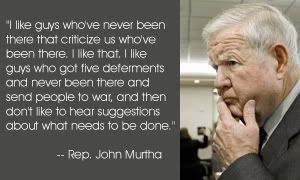 Now, George W. Bush, Dick Cheney, Donald Rumsfeld, and all their Republican/Conservative/Neocon buddies can
GO FUCK THEMSELVES
!!!